New Sonic screwdriver remote control, full details!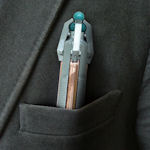 Last month we told you about the new Sonic screwdriver remote control that's on its way and it's now been officially unveiled – read on for the details and pics!
Billed as "the must have accessory", the device is a gesture based remote control that is compatible with entertainment systems such as TVs, iPod docks and DVD/Blu-ray players. Developed by The Wand Company, it works through 13 gestures, including rotating, flicking and tapping, and comes complete with authentic vintage sound effects.
Now for the sciencey bit – it works by utilising infrared (IR) technology to control devices around the home. A total of 39 commands can be stored on it, and it even comes with a 3 digit PIN security setting to avoid any unauthorised alien usage. That'll come in handy!
The Sonic Screwdriver Universal Remote Control goes on sale on 31st August.
See the latest Doctor Who products on sale now via our merchandise section!