Discussion: What IS the Doctor's greatest secret?
Warning! This article and its comments may contain spoilers...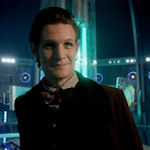 Brand new episodes of Doctor Who are slowly but surely on the way and Steven Moffat has given fans more to speculate over in a recent interview.
The showrunner told Radio Times that the Doctor's "greatest secret" will be in jeopardy when he returns to BBC One for eight more adventures from Saturday 30th March. This of course poses the question – what is his greatest secret!?
Well, let's start by taking a look at what we know…
The Doctor's been warned by Dorium that "the first question" is out there waiting for him, and we have been told it is the oldest question in the universe: Doctor who? Hidden in plain sight, the Doctor's been running from it all his life – does he know something we don't know? And will all this tie in with the Silence, the Fields of Trenzalore and the Fall of the Eleventh? Your guess is as good as ours, but it's always fun to speculate, so drop your ideas in the comments section below. Have fun and remember – spoilers, sweetie!