50th anniversary special to be screened in cinemas
Warning! This article and its comments may contain spoilers...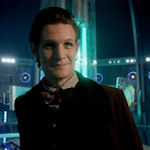 The 50th anniversary special of Doctor Who will be screened in cinemas, it has been announced!
The BBC revealed today that the special episode marking the Doctor's historic milestone will be broadcast on the BBC in blockbuster 3D. The Guardian has more in-depth quotes of BBC Drama's Ben Stephenson verifying fans will also get to experience the action on the big screen. "We will be doing it on cinema screens as well," he explained. "We're working out the logistics of that at the moment."
He reaffirmed that producers won't lose sight of the show's presence on TV amongst the cinematic scope of the festivities. "The main BBC experience will remain absolute value for money," he said. He's recently teased the anniversary will "take over television".
A documentary charting the show's origins is being filmed for broadcast on BBC Two.
Share your 50th anniversary hopes and dreams in our dedicated discussion…