Eve keeping "fingers crossed" for new Torchwood
Warning! This article and its comments may contain spoilers...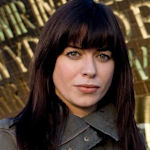 Eve Myles has revealed she is keeping her "fingers crossed" that Torchwood will be picked up for another series.
The show which first aired in 2006 has been off our screens since September 2011 when its fourth series – the US based 10 part story Miracle Day – ended to a mixed response.
Since then, the future of Jack and Gwen has been in doubt as its creator Russell T Davies has admitted that he is "not working on" on any new adventures for the forseeable.
"We have no idea," Eve told BBC Breakfast this week. "Although I fly off to Australia to do a signing tomorrow so it's still alive and all the fans are still so loyal and passionate."
The star previously called for a full-length movie to "draw a line under" the franchise.
Torchwood's future is "in limbo", but discuss where you would like it to go next here…