5 questions with… Zoë Wanamaker!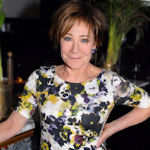 We are thrilled to be able to bring you 5 exclusive questions with award-winning actress Zoë Wanamaker!
Star of the stage and screen, we chatted with Zoë about her guest role in the classic Doctor Who episodes The End of the World and New Earth as Lady Cassandra O'Brien.Δ17 (that's Lady Cassandra for short!).
Zoë shared her memories of playing the self-proclaimed last human and also gave some tips for aspiring actors.
Thanks to Zoë! Visit her official website here and follow her Twitter @ZoeWanamaker.
Q. Hi, Zoë. So when did you first realise you were interested in acting and what would you say are the main differences between performing on the stage and in front of a camera?
A. I was very young, about 10 years old, when I first realised I was interested in acting. I would say the main difference between performing on stage and in front of the camera is the time constraints. There's a lack of rehearsal time for film and TV.

Q. How did your role in Doctor Who as Lady Cassandra come about and what was it about the role that appealed to you?
A. I don't really know how Lady Cassandra came about but I used to watch Doctor Who when I was a child. I thought Lady Cassandra was very funny, but also at the same time she quite a manipulative character.

Q. Cassandra prided herself in being "the last human". Would you go as far as her to preserve your humanity?
A. Ooh, I don't think so! Definitely not, no!

Q. What was your reaction when you were told that Cassandra was being brought back and that you'd get to appear on screen as her in physical form?
A. I was really delighted when I was that told Lady Cassandra was coming back, especially as her physical form could change whenever she wanted it to. That's every girl's dream! It was also exciting because I was only ever actually on set for the second episode.

Q. What advice would you give to any aspiring actors out there?
A.I would tell aspiring actors to find another passion that will pay your rent and keep you warm, but if you still want to became an actor then read as much as you can and definitely see as much of the arts as you can.
Don't miss the rest of our exclusive Tenth Doctor guides, quizzes & features…