5 million spend their Saturday in Sherwood
Warning! This article and its comments may contain spoilers...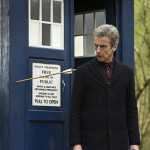 Over 5 million people chose to spend their Saturday night in Sherwood with the Doctor, Clara and Robin.
The overnight ratings show that 5.2 million tuned in for Robot of Sherwood on BBC One last night, making Doctor Who the second most watch programme of the day with a 25.4% share of the total TV audience.
As well as mirroring last week's overnight figure, our Time Lord was once again beaten to the top spot by The X Factor which attracted 8.7 million viewers to ITV.
What say you about Robot of Sherwood? Click here to Rate & Discuss the episode!