Michelle Gomez confirms Missy return
Warning! This article and its comments may contain spoilers...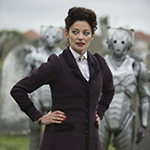 Michelle Gomez has confirmed that she'll be returning to Doctor Who in Series 9.
The actress was introduced as Missy in the latest series, which reached its dramatic conclusion last Saturday, and exclusively told the new issue of Doctor Who Magazine that she's set to reprise her role next year.
"Yes. 'Yes' is my answer," she said. "I'll be back. Can I say that? Am I allowed? If not… well, I guess we'll have to see how she's received…"
Are you happy that Missy will be back with a vengeance? Let us know your thoughts below!
Loading ...
"Say something nice" (or not) about the Series 8 finale in our episode discussion!