Series 8 boxset UK release delayed
Warning! This article and its comments may contain spoilers...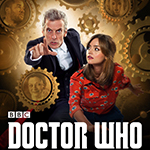 The UK release of Doctor Who: The Complete Eighth Series has been delayed due to a classification change.
The boxset will now be available on DVD and Blu-ray from 24th November 2014, a week later than was originally announced.
Previously rated PG, the boxset is now rated 12 in light of the controversial themes depicted in the series finale, which concludes tomorrow night on BBC One at 8pm. The cover artwork has been updated and reprinted accordingly.
Browse the latest Doctor Who products on sale now in our merchandise section…