Missy to return in Series 9 opener
Warning! This article and its comments may contain spoilers...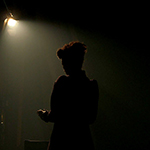 The BBC has announced that Michelle Gomez will be reprising her role as Missy for Series 9's opening story, which they've also revealed will be a two-parter.
The actress made her Doctor Who debut in Series 8 when she was unveiled as the first female incarnation of the Master. It's safe to say that her introduction as the regenerated renegade Time Lord split the stratosphere of the show's fandom in half but it was only just the beginning as she'll be back with a vengeance to help kick the new series off in style when it hits our screens later this year.
Her comeback, which was previously confirmed by Gomez herself, will take place in the premiere episode, The Magician's Apprentice, which will be followed by The Witch's Familiar, part two of the opening adventure. Both episodes are by Steven Moffat and directed by Hettie MacDonald and will also feature Jemma Redgrave as Kate Stewart.
Meanwhile, other guest stars confirmed for the new series include Kelly Hunter (Shadow Architect in The Stolen Earth), Clare Higgins (Ohila in The Night of the Doctor), Jaye Griffiths, Daniel Hoffmann-Gill, Jami Reid-Quarrell, Aaron Neil, India Ria Amarteifio, Joey Price, Dasharn Anderson, Harki Bhambra and Demi Papaminas. It will air in the autumn.
Are you glad to see Missy again? Discuss the latest developments in the comments below…
The Doctor returns in The Magician's Apprentice… Click HERE for the latest news!