Warning! This article and its comments may contain spoilers...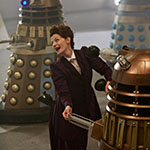 The Series 9 premiere will be repeated as a specially edited 90 minute TV movie tomorrow (Sunday) afternoon.
The Magician's Apprentice and The Witch's Familiar, which premiered earlier tonight, will be screened as one from 3:15pm on BBC One to give fans the opportunity to relive the Twelfth Doctor's climatic showdown with Davros in all its epic, uninterrupted glory.
The adventure was jam-packed with shocks and surprises and you can discuss all the accompanying drama here and here.