Series 9 to open with "darkest plot ever"?
Warning! This article and its comments may contain spoilers...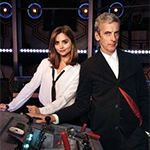 Doctor Who will reportedly return with its "darkest plot ever" when Series 9 hits our screens later this year.
According to the Mirror (we know, but bear with us!), the two-part premiere, The Magician's Apprentice and The Witch's Familiar, will also feature the return of an old enemy, but not in the way viewers will be expecting.
It has previously been confirmed that Michelle Gomez will be back as Missy for the opening adventure which is written by Steven Moffat and directed by Hettie MacDonald.
Read the full article below but, as always, remember to take it with a pinch of salt. You're welcome to discuss the speculation in the comments but they won't be spoiler monitored.
Doctor Who will kick off the new series with one of its darkest ever plots as Peter Capaldi's Time Lord ponders whether to murder a child.

The dramatic season opener is based on a line muttered 40 years ago by Tom Baker's Doctor in Genesis of the Daleks.

At the time, he asked: "If someone who knew the future pointed out a child to you and told you that child would grow up totally evil, to be a ruthless dictator who would destroy millions of lives, could you then kill that child?"

Capaldi's nightmare unfolds after the Tardis takes him to a battlefield where he realises he is face to face with a younger version of his arch-enemy Davros, who went on to create the Daleks.

The dictator, played as a grown-up by Julian Bleach, was last seen in 2009 when he locked horns with David Tennant's version of the Doctor.

This time he returns to Dalek planet Skaro and holds the Time Lord captive as he struggles to save the evil machines from dying out.
Filming for Series 9 is currently underway. It's scheduled to air on BBC One in the autumn.