Michelle Gomez discusses Missy's return
Warning! This article and its comments may contain spoilers...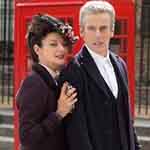 Michelle Gomez has briefly been discussing her upcoming Doctor Who return in a recent interview to promote her new comedy web series, Heather's American Medicine.
The actress, who was revealed as the first female incarnation of the Master during the Series 8 finale, will be back with a vengeance in the Series 9 two-part premiere, The Magician's Apprentice and The Witch's Familiar, and told Digital Spy that it was "a delight" to step back into Missy's shoes. "Steven Moffat writes her beautifully," she said. "I get to have a little more fun with her again this year."
It has previously been confirmed that Missy is going to "surprise everyone" in Series 9.