Discussion: Your hopes for Series 9
Warning! This article and its comments may contain spoilers...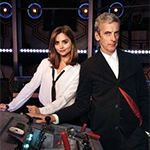 It only feels like yesterday that we were accompanying the Doctor and Clara on their festive escapade in the North Pole so it's hard to believe that it's actually been 6 whole months since we last saw our honourable heroes in action.
Fear not, though, because their latest string of adventures is slowly but surely approaching which means that there are 12 brand spankin' new adventures just around the corner. Where is a TARDIS when you need one?! They are a-comin', though, and from what we've been told about Series 9 thus far,  it looks set to the biggest and best yet.
There will be more Missy, for starters, as everyone's favourite renegade Time Lady will be back with an almighty vengeance in the two-part opener, The Magician's Apprentice and The Witch's Familiar, which has been billed as the show's "darkest plot ever". Further scares lie in wait in Toby Whithouse's terrifying two-parter before the Doctor is challenged by the mysterious Maisie Williams in The Girl Who Died and The Woman Who Lived. If all of that wasn't enough to get excited about, Osgood will be returning with the Zygons and Kate Stewart will be popping up a couple of times too, since it'd be rude for her not to.
That's just the tip of the timey-wimey iceberg but as always it would literally be impossible to predict what else the Doctor and Clara will be facing when they burst back onto our telly boxes this autumn. The endless plethora of possibilities has never stopped us speculating before, of course, and it's about time we opened a discussion for you to share all of your weird and wonderful theories. So, what are your biggest hopes and wishes for Series 9? What should happen? What shouldn't happen? Whatever you've got to say, here's the place to say it. It'll always be open for you, too, 24 hours a day, 7 days a week, so don't worry if it's 3am and you've a tantalising theory (or five!) to get off your chest. You are not alone.