Peter and Jenna rock out at Abbey Road
Warning! This article and its comments may contain spoilers...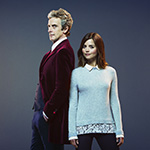 Peter Capaldi and Jenna Coleman journeyed to Abbey Road this morning to recreate the iconic Beatles photo ahead of Doctor Who's long awaited return to our screens.
The stars of the show were even joined by a concierge of Daleks who were also spotted getting up to all kinds of malevolent mischievous earlier this week when they invaded the London Underground. It's all because they'll be back with a vengeance in tonight's Series 9 premiere, The Magician's Apprentice, which is the first part of a double whammy of drama marking the return of Michelle Gomez as Missy.
Got something to say about Series 9? Get it off your chest in our new discussion…
Thanks to BBC Worldwide.