River returns for this year's Christmas Special
Warning! This article and its comments may contain spoilers...
Alex Kingston will be returning to Doctor Who for this year's Christmas Special which has begun filming in Cardiff.
The actress will reprise her role as Professor River Song – last seen in the Series 7 finale The Name of the Doctor – for a "spectacular" seasonal escapade in which the popular character will meet Peter Capaldi's incarnation of the Doctor for the first time. Written by Steven Moffat and directed by Douglas Mackinnon, the episode will be the show's eleventh annual festive adventure since 2005 and it has already been billed as "essential viewing" this December.
"I didn't know if River would ever return to the show, but here she is," Alex said. "Steven is on glittering form, giving us an episode filled with humor and surprise guest castings. I met Peter for the first time at Monday's read through. We had a laugh and I'm now very excited and ready to start filming with the Doctor Who team. Christmas in September? Why not?!"
Steven added: "Another Christmas, another Doctor Who special.. and what could be more special than the return of Alex Kingston as Professor River Song? The last time the Doctor saw her, she was a ghost. The first time he met her, she died. So how can he be seeing her again? With the most complicated relationship in the universe, it's only a matter of time…"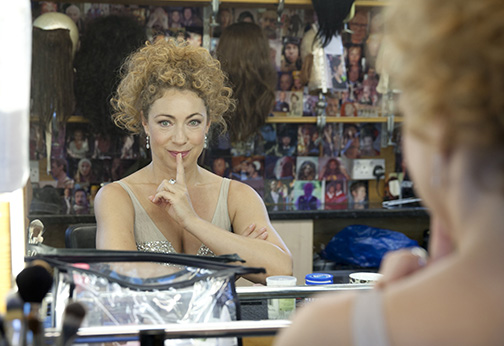 Above – Spoilers, sweetie! River will meet her husband's latest incarnation this Christmas.
River will also be featuring in her own Big Finish audio spin off, launching in early 2016.