Feature-length specials rumoured for 2016
Warning! This article and its comments may contain spoilers...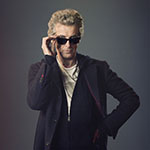 A new rumour has surfaced today which claims that the BBC are planning a handful of feature-length Doctor Who specials to air throughout 2016.
According to the tabloid speculation, showrunners have hit a "crisis period" owing to what they describe as a "plunge" in ratings after overnight viewing figures for the latest series have thus far failed to pass the 4 million mark. Consequently, the series will allegedly be taking a break next year – which would compliment a previous report – to accommodate a "drastic" cast reboot for its full time return in 2017.
If – if – it turns out to be true, Doctor Who would air three specials next year, including the now traditional Christmas Special, in a temporary format which has inevitably been likened to the successful model acquired by Steven Moffat's other acclaimed franchise Sherlock. As always, treat the developments with a pinch of salt until there's any official news from the BBC but feel free to share your own views on the matter by voting and commenting below.
Loading ...
Going under? Click here to rate and discuss Episode 3 of the BRAND NEW series…