Next Time: The Girl Who Died
Warning! This article and its comments may contain spoilers...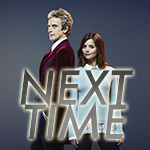 Series 9 continues next Saturday – hurrah! – and, if you're a fan of Game of Thrones, this is probably the one you've been waiting for.
Maisie Williams joins the Doctor and Clara in The Girl Who Died when the TARDIS team are captured by Vikings in a village threatened by Space Warriors from the future. Their fate seems inevitable, but why is the Doctor so distracted?
The Girl Who Died airs on Saturday 17th October at the slightly earlier time of 8.20pm on BBC One.
Click here to go back to Before the Flood and rate & discuss this week's episode…