Steven affirms Peter "is going nowhere"
Warning! This article and its comments may contain spoilers...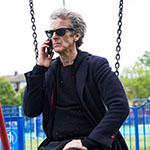 Steven Moffat has responded to the ongoing speculation that Peter Capaldi will be leaving Doctor Who next year.
Recent rumours suggested that the Twelfth Doctor actor had decided to bow out of the TARDIS after a handful of feature-length specials to air throughout 2016, culminating in his regeneration. According to the man in charge, however, the incumbent Time Lord is here to stay as pre-production on Series 10 is already well underway. The show itself is in safe hands, too, with the showrunner reaffirming its future for at least "five more years".
"It's definitely going to last five more years," he told Variety. "I've seen the business plan, and I think we can go past that, too. It's television's own legend so it will just keep going."
So that's the future of Doctor Who secured, until the next inevitable tabloid report about its impending doom, of course! Series 9 will continue on Saturday in The Zygon Inversion.