Steven confirms Series 10 will be 12 episodes
Warning! This article and its comments may contain spoilers...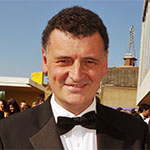 Steven Moffat has revealed that Doctor Who will be sticking to its newly established format of 12 episodes for Series 10.
Responding to recent rumours that the show was planning a "gap year" with only a handful of feature-length specials to air throughout 2016, the showrunner affirmed that fans will be getting the same amount of adventures as they have been since 2014. He also admitted, however, that he doesn't yet know how the BBC will choose to broadcast them, leading to further speculation that Series 10 will be shown in two halves à la Series 6 and Series 7.
"We're making a full series, I can absolutely confirm that," he told Radio Times. "It will be a full series of 12 episodes, plus a Christmas Special, but I don't know when it will go out. That's up to someone else. Even if I did know, which I don't, I wouldn't be allowed to say. But it's not being reduced in size and it won't be fewer episodes. That's all complete bunk."
It has also been heavily suggested that Peter Capaldi will be bowing out of his role as the Twelfth Doctor in the next 12 months with Steven promising that he "is going nowhere".