Jenna talks exit, admits "her time was up"
Warning! This article and its comments may contain spoilers...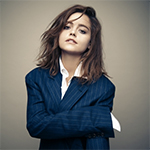 Jenna Coleman has revealed that she made the right decision to leave Doctor Who as she admitted that "her time was up" at the end of Series 9.
The actress bowed out as the Doctor's longest serving revived series companion, Clara Oswald, in this year's finale, Hell Bent, and told Interview Magazine - where she's named as one of their 16 faces to look out for in 2016 – that she "had to let go and move forward". "It felt like a natural end," she said. "It made sense, and it made sense in a story sense. So I was willing to stay that extra year to tell a good story."
She continued: "I went to Peter's house with Steven Moffat to watch my final episode, so it was lovely to enjoy it together. The goodbye had been in the works for so long, so to have it done on screen now is quite strange, but also exhilarating. It has been a mad and weird and wonderful part of my life for the last four years, but it now feels like the next chapter."
Jenna will next be seen on our screens as Queen Victoria in ITV's major new 8-part drama series, depicting the early life of our longest serving monarch, which is now being filmed.
Click here to Rate and Discuss this year's epic series finale… the long way round!