Missy to return in Series 10?
Warning! This article and its comments may contain spoilers...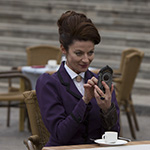 Steven Moffat has dropped a cryptic hint to suggest that Missy will be returning to Doctor Who in 2016.
During a Q&A session recently, the showrunner revealed that fans "should definitely expect more from her in the future", seemingly confirming that the renegade Time Lady will be back to fight another day in Series 10. Michelle Gomez was introduced as the first female incarnation of the Master during Series 8 before making her grand comeback in Series 9's two-part premiere, The Magician's Apprentice and The Witch's Familiar, earlier this year.
Steven also teased that a forthcoming Series 10 episode will be set on "an ancient world".
New adventures. New companion. Same Doctor! Read the latest Series 10 news…