Peter discusses role beyond Series 10
Warning! This article and its comments may contain spoilers...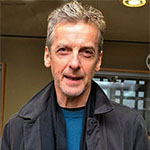 Peter Capaldi recently discussed his future aboard the TARDIS beyond Series 10 by revealing that he's "been asked to stay on" for Series 11 but is yet to sign the dotted line.
Ongoing rumours have claimed that the Twelfth Doctor will be bowing out of his role as the iconic Time Lord after his third string of adventures, to air in 2017, with the man himself also previously suggesting that he could be about to embark on his "final year". However, he told Steve Wright on BBC Radio 2 that his involvement in Chris Chibnall's first series as showrunner is still to be decided.
He said: "It's still a long time before I actually have to make that decision. Steven's been wonderful, so I've loved working with him. Chris is fantastic too, but I don't know where the show will go with him. I'll have to make my mind up, but it's difficult to say goodbye."
Filming on Series 10 – to be Steven Moffat's last as showrunner – will begin this May.