Power of the Daleks to be shown in US cinemas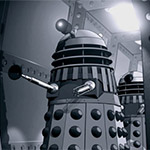 The Power of the Daleks will be making its way to US cinemas next month, it has been confirmed.
Ahead of its televisual debut on BBC America, the previously announced animated version of the missing Second Doctor story will be premiered on big screens for one night only on Monday 14th November 2016. The event will include all 6 parts of the adventure, which originally aired 50 years ago, as well as exclusive content including interviews with the original cast. Tickets will go on sale at Fathom Events this Friday at 10am ET.
If you're in the UK, the serial will be available to download from the BBC Store on Saturday 5th November, while American fans who miss out on the cinema screenings will be able to enjoy it in all its glory when it airs on BBC America on Saturday 19th November. Check out the teaser in the player below, and be sure to share your anticipation in the comments!
Browse the latest Doctor Who products on sale now in our merchandise section…