Running order for Doctor Who Proms released
Warning! This article and its comments may contain spoilers...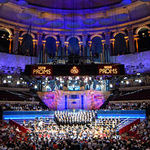 The BBC Proms website has released the running order for the highly-anticipated Doctor Who concerts – hosted by Karen Gillan and Arthur Darvill, with a special guest appearace from the Doctor himself, Matt Smith – taking place this weekend at the Royal Albert Hall.
The first concert will be broadcast live on BBC Radio 3 on Saturday from 19:30, with the second taking place on Sunday at 11:00. You can view the running order below, but watch out as it may contain spoilers.
Doctor Who Proms 2010 Running Order

Murray Gold – The Mad Man With A Box (Prologue)
Murray Gold – An Untimely Arrival
John Adams - Short Ride in a Fast Machine
Murray Gold – I Am The Doctor
William Walton – Overture (Portsmouth Point)
Gustav Holst – The Planet – 'Mars'
Murray Gold – Battle in the Skies (Daleks vs. Spitfires)

— INTERVAL —

Carl Orff – Carmina burana – 'O Fortuna'
Murray Gold - Amy
Murray Gold -Liz, Lizards, Vampires and Vincent
Richard Wagner - Die Walküre – 'The Ride of the Valkyries'
Murray Gold - This is Gallifrey/Vale decem
Murray Gold - Pandorica Suite
Murray Gold - Song of Freedom
Ron Grainer arr., Murray Gold - The Doctor Who Theme