Guess who? The Doctor calls in during Red Nose Day!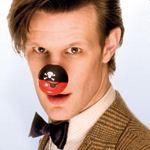 Not only did we get a new adventure during last night's Comic Relief telethon, but the Doctor himself also dropped by later on in the night to join in with the proceedings!
If you missed it (or if you just want to see it again), you can see the moment the TARDIS materialised on stage below.
During the special adventure, the whole of time and space was tested when Amy came face to face with… herself! You can watch the mini-episodes, and have your say, here.
The grand total at the end of the night was a record-breaking £74,360,207, which will be used to change the lives of disadvantaged and poor people living in Africa and the UK.
It's not too late to donate! See the Red Nose Day website for the full details.