50th anniversary, Freema's "heard rumblings"
Warning! This article and its comments may contain spoilers...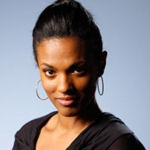 Freema Agyeman has said that she has "heard rumblings" about what's being planned for the 50th anniversary.
During a Q&A with the Independent recently, the Martha Jones actress was asked whether or not she would consider returning for the landmark year. "I've just heard rumblings and my agent was talking about it," she said. "In terms of working with David and with Karen, we've all got the same sort of circle, so a mention of things, but nothing's really been in set in stone."
She explained: "If they want to do a big group thing, I can't really envisage anybody in the Who family saying no. It's quite a marked occasion, and a good opportunity to rekindle… For the fans, it is exciting for them as well, and everyone gets together."
Steven Moffat recently said the plans for the 50th anniversary are "quite extensive".