David Yates signs up to direct Doctor Who movie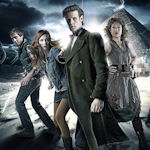 Various reports have surfaced tonight suggesting that David Yates has signed up to a direct a new Doctor Who movie.
According to Variety, the director – who is best known for his work on the Harry Potter series – is currently developing the film with BBC Worldwide's Programming and Production VP, Jane Tranter. He explained: "We are looking at writers now. We're going to spend two to three years to get it right, as it needs quite a radical transformation to take it into the bigger arena."
While there's not much to say about the film itself at the moment, he did reveal that its story won't necessarily follow on directly from the television series. "Russell T Davies and Steven Moffat have done their own transformations, which were fantastic," he said. "We have to put that aside and start from scratch. The notion of the time-travelling Time Lord is such a strong one, because you can express story and drama in any dimension."
In terms of writers, he added: "We want a British sensibility, but having said that, Steve Kloves wrote Potter films and captured that, so we're looking at American writers too."
Loading ...
So… what do you think!? It seems the years of rumours are finally getting somewhere!