Eve would like to see a Torchwood movie in 2013
Warning! This article and its comments may contain spoilers...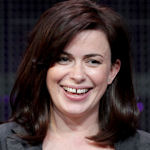 Eve Myles recently told CultBox that she feels a Torchwood movie would be ideal "to draw a line under" the series.
While the future for the spin off is up in the air, following its fourth series, Miracle Day, which aired last year, the Gwen actress has revealed that it's all "very much on hold" rather than forgotten. "Russell T Davies has things happening in his personal life," she said. "If and when they need us, they can pick the phone up and we will be there before they've even put the phone down, because it's something we love doing."
She continued: "Nothing's going to happen in 2012, I know that much for sure. But who knows what will happen in 2013. Maybe a movie, to kinda draw a line under it."
John Barrowman's also expressed interest in taking Jack and Gwen to the big screen.
Eve will soon be taking to the stage for a new West End play, entitled All New People.