OFFICIAL: New Doctor Who companion revealed!
Warning! This article and its comments may contain spoilers...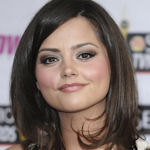 Jenna-Louise Coleman has today been confirmed as the new Doctor Who companion!
The official announcement was made via the official Doctor Who Twitter page this morning. The 25 year old actress is best known for her portrayal of Jasmine Thomas in the ITV1 soap Emmerdale, and she has also played Lindsay James in BBC One's Waterloo Road. This weekend she'll be seen as Annie Desmond in ITV1's Titanic, a series marking the 100th anniversary of the doomed voyage.
Coleman will make her debut in Doctor Who during this year's Christmas Special, after the departure of Karen Gillan and Arthur Darvill as Amy and Rory Pond.
She's said that she is "beyond excited" to start filming. "I can't wait to get cracking," she said. "Working alongside Matt is going to be enormous fun, and a huge adventure."
Showrunner Steven Moffat has added: "It always seems impossible when you start casting these parts, but when we saw Matt and Jenna together, we knew we had our girl. She's funny and clever and exactly mad enough to step on board the TARDIS. It's not often the Doctor meets someone who can talk even faster than he does, but it's about to happen. Jenna is going to lead him his merriest dance yet. And that's all you're getting for now. Who she's playing, how the Doctor meets her, and even where he finds her, are all part of one of the biggest mysteries the Time Lord ever encounters. Even by the Doctor's standards, this is not your usual boy meets girl…"
Finally, the Controller of BBC One, Danny Cohen, finished: "As we approach Doctor Who's 50th anniversary, it is great to welcome a new companion to the TARDIS, and I feel confident the Doctor will look after her in his unique style…" We are sure he will too!
If you've something to say about Series 7, head on over to our dedicated discussion!