Watch now: P.S. – unshot scene by Chris Chibnall!
Warning! This article and its comments may contain spoilers...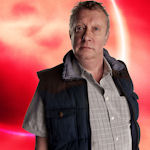 As promised yesterday, here's P.S., the new and exclusive unshot scene which wraps up all the unanswered questions from the Ponds' exit in The Angels Take Manhattan.
Written by Chris Chibnall, the sequence was never shot, but it has been brought to life using animated storyboards and a voice-over by Arthur Darvill. The bittersweet video reveals what happened after Amy and Rory's date with destiny, and if Rory's father, Brian, ever discovered the truth… Check it out here or in the player below – tissues at the ready!
Rate and discuss the Ponds' heartbreaking swansong in our dedicated discussion, here.
See the latest Series 7 headlines to discuss all the developments as and when…