Exclusive Interview: Richard Franklin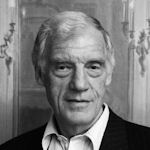 As March flies by our Third Doctor celebrations continue with an interview with an actor who starred in the show alongside the man himself.
Richard Franklin made his first appearance in Doctor Who in the 1971 serial Terror of the Autons as Mike Yates.
Assisting the Brigadier at UNIT, Mike would go on to help the Doctor and his companions defend Earth from alien threats such as the Master and mutated maggots.
Richard gave us an insight into his role and his fond memories of being a UNIT Captain…
"I got the role through serendipity really," Richard reflected. "A chance conversation in a theatre between Barry Letts and my then agent before the curtain rose in the West End."
It wasn't all down to fate though, as Richard told us he then "had to work for the job". "I had 3 interviews at the BBC. They involved reading scenes with my future 'love interest' Katy Manning who played Jo Grant." And it was the swaggering ladies-man aspect of the character that appealed to Richard: "Well, who wouldn't want to be an heroic lover-boy?"
But when Mike wasn't charming the ladies, he was helping the Doctor defend Earth from alien excursions, and Richard had the chance to work with more than one incarnation of the Time Lord throughout his time in the show – notably Jon Pertwee and Tom Baker. He has fond memories of both, who were equally "a delight and fascinating" to be around. "They were both very different," he explained, "as Jon was the star – a leading man with huge charisma and wonderful raconteur. Tom was charismatic, an eccentric intellectual."
Mike's last appearance came in the 1980's but the character lives on in the audio series, in adventures such as The Blue Tooth and The Rings of Ikiria. Richard spoke very highly of the audio adventures as he noted "the wonderful thing is that age is no barrier". "Mike Yates on audio remains forever young," he finished. "Luckily, it is how I feel in real life!"
We'd like to say a huge thanks to Richard for taking time out to answer our questions – you can find out more about his career and current projects at his official website, here.
Click HERE for the rest of our Third Doctor guides, features and discussions…