Happy Birthday, Freema Agyeman!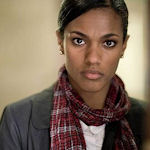 Today's Freema Agyeman's birthday so we'd like to wish her all the best as she turns 34!
The actress portrayed Martha Jones in Series 3 and Series 4 (although, of course, we first saw her as Adeola in Series 2). Martha kept herself busy by visiting Jack and the team in Series 2 of Torchwood and the last time we saw her she was working as a freelance alien hunter with her husband Mickey Smith. Freema recently confirmed she will not be returning for the 50th anniversary special.
We hope Freema enjoys her day and to mark it, we want to know your favourite Martha moments – share them along with your birthday messages for Freema in the comments!