BBC airs extended trailer for The Day of the Doctor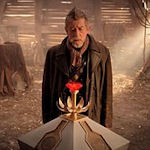 Just in case the first trailer wasn't enough, the BBC has gone and thrown another one into the mix to add to the ever growing anticipation for The Day of the Doctor!
This extended preview contains even more footage from the landmark special which will premiere worldwide exactly two weeks today on Saturday 23rd November. Who's excited!?
The episode stars Matt Smith, David Tennant and John Hurt as the Doctors and looks set to be as epic as they come.
If you needed anymore proof that the adventure will defy time and space itself, just tap 'play' on the video (and then a few more times for good measure!) and prepare for your Whovian minds to be well and truly blown away. Doctors and Daleks and Rose, oh my…
Pretty epic right? Was it worth the wait? Vote below and have your say in the comments!
Loading ...
Share your 50th anniversary hopes and dreams in our dedicated discussion…