The Doctors present The Five(ish) Doctors Reboot
Warning! This article and its comments may contain spoilers...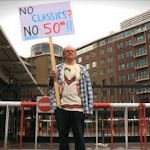 The Classic Doctors who were excluded from the main 50th anniversary special have taken matters into their own hands by producing one of their very own!
Written and directed by the Fifth Doctor Peter Davison, The Five(ish) Doctors Reboot follows the former Time Lords on their mission to be involved in the landmark festivities.
The film sports a star studded emsemble of guests including Olivia Colman, John Barrowman and Peter Jackson.
Watch The Five(ish) Doctors Reboot HERE and see its teaser trailer in the player below…
Rate & discuss The Day of the Doctor and you could win £100 worth of prizes!