Final UK rating for The Day of the Doctor revealed!
Warning! This article and its comments may contain spoilers...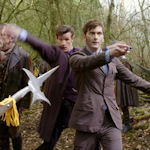 It's been confirmed that The Day of the Doctor was watched by an official audience of 12.8 million in the UK!
The landmark special, which aired on BBC One on Saturday 23rd November, was the most watched show on British TV of the week, and the second highest rated of 2013 so far.
The final figure sees a considerable increase from the initial overnights. It accounts for those who recorded the special and watched it within 7 days of its broadcast.
As Doctor Who Magazine reports, this consolidated rating makes The Day of the Doctor the most watched episode of Doctor Who since The Next Doctor in 2008. It is also now the 16th highest rated episode of Doctor Who in its 50 year history. Not too shabby, eh?
The special was also shown in cinemas where it made £1.8 million at the UK box office.
"No more" waiting! Rate and discuss The Day of the Doctor with fellow fans…