Happy Birthday, Freema Agyeman!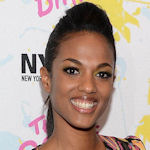 Join us as we send our birthday wishes to Freema Agyeman today!
The actress, who portrayed the Doctor's devoted companion Martha, is 35 and we hope she enjoys her celebrations.
Time and space proved to be a tricky ride for Miss Jones, as her unrequited love for the Doctor resulted in her handing in her duties as a permanent TARDIS resident. She's now busy defending the Earth alongside her hubby Mickey Smith.
Leave your own messages for Freema below. What are your favourite Martha moments?