BAFTA Audience Award for The Day of the Doctor!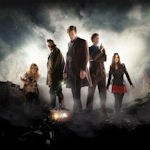 It has been a night of success for Doctor Who which won the Radio Times Audience Award at the BAFTA TV Awards!
The coveted title was awarded to the show's acclaimed 50th anniversary spectacular, The Day of the Doctor, and it holds a particular significance as it's the ceremony's only category which is voted for by the general public.
We'd like to wish a big congratulations to the whole team for their deserved accolade. Here's to the next 50 years!