Joanne Harris pens Third Doctor short story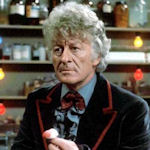 International bestselling author Joanne Harris (Sleep, Pale Sister, Chocolat) has written a new Doctor Who short story for the ongoing Time Trips digital range.
In The Loneliness of the Long-Distance Time Traveller, the Third Doctor finds himself in an isolated time paradox which is being ruled by an unknown psychic force. Populated by people without names, anyone who disobeys the rules is swept up into the Gyre, but can the Doctor persuade whatever controls it to free the Village before it's too late?
"I remember watching Doctor Who from an early age from a cushion fort behind the sofa," Joanne said. "Even then, with its cardboard sets, it was both compulsive and terrifying. By the time I was eight or nine, even the sound of the Doctor Who theme music was enough to bring on a Pavlovian thrill of terror and anticipation. 'My' Doctor was Jon Pertwee, and I remember feeling a fierce resistance when he was replaced by Tom Baker – though Tom Baker won me round eventually! When the series was revived, I was thrilled to watch its transition into the 21st century – just as I'm thrilled now to be contributing to this series."
The Loneliness of the Long-Distance Time Traveller will be available to download from Thursday 4th September 2014, priced £1.99.