Series 8: The story so far…
Warning! This article and its comments may contain spoilers...
We're now three weeks into the brand new series so here's our round up of all the action, and then some, so far. We've seen droids, Daleks and duels and it's safe to say that the brand new era in the TARDIS has kicked off with a bang…
The timey-wimey drama recommenced in Deep Breath when we were finally introduced to Peter Capaldi as the Twelfth Doctor in his first full – and feature – length adventure. He swung into action in Victorian London where a dinosaur was rampant in the Thames and a spate of deadly combustions led our heroes to the heart of an alien conspiracy. We were also reunited with Vastra, Jenny and Strax who were on hand to support Clara as she adjusted to her best friend's new face. We think she handled the situation very well, and it all came down to a cup of coffee and a phone call from an old friend. The new Doctor had arrived!
Next up in Episode 2, the Doctor went where he's never gone before as he journeyed Into the Dalek on a dangerous mission which forced him to examine his conscience. Faced with a decision that would change the fate of his greatest enemy forever, he proved that there is such a thing as a good Dalek after all – who knew!? This episode also featured the debut of Danny Pink, Clara's new colleague who we've been told has a dark secret from his past…
Last night it was third time lucky for Clara who finally met one of her lifelong heroes, Robin Hood. In a sun-dappled forest, the Doctor was forced to strike up an unlikely alliance with the iconic outlaw in order to save the whole of Nottingham from the Robot of Sherwood.
And it wouldn't be Doctor Who without an ongoing mystery and there's already a rather intriguing one developing. In the first two episodes we were taken to 'heaven' where we met the Gatekeeper of the Nethersphere – otherwise known as 'Missy'. But who is she and just what awaits the Doctor on the other side? Share your theories in our discussion here!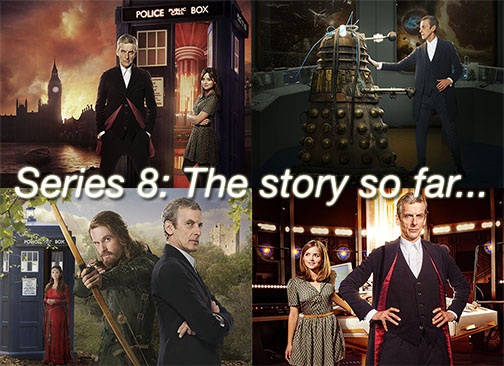 So, 3 episodes down, 9 to go! How's Peter Capaldi's debut series shaping up for you thus far? Are you pleased with our new fiercer Doctor and the darker direction the show seems to be going in? Have your say and don't miss our individual Discussions for each episode.