Warning! This article and its comments may contain spoilers...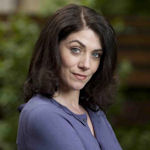 Neve McIntosh has discussed the possibility of starring in her own Doctor Who spin off in an interview with The Mary Sue.
The actress has become a firm fan favourite for her portrayal of Madame Vastra who was first introduced in the mid-Series 6 finale A Good Man Goes to War. Since then she has made several returns alongside her on screen wife Jenny Flint and their associate Commander Strax. Their ongoing liaisons with the Doctor have led to fans campaigning for them to land a show of their own. "Every fan I meet asks about that," she said. "I would love it."
She continued: "Or maybe a one-off TV special, or we could just go straight to the movie! I think I need to corner Mr Steven Moffat. We'll see what happens, though. You never know."
She also commented on her character's controversial kiss in Deep Breath which sparked a flurry of complaints. The scene was even cut from some international broadcasts. "I had no idea it would be such a big deal," she admitted. "Yes, it was a kiss, but I was also breathing life into her. I hope that people can come around and realise that a wife can kiss her wife."
Would you be interested to see a spin off with the Paternoster Gang? Have your say below!