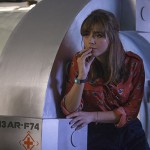 Episode 2 of Peter Capaldi's debut series as the Doctor was seen by an official audience of 7.29 million in the UK.
The final rating makes Into the Dalek the 9th most watched programme on British television for the week, and the 2nd most watched across the BBC, with a 30.4% share of the total TV audience.
The consolidated figure is considerably higher than the initial overnight of 5.2 million as it accounts for those who watched the episode within the first 7 days of its transmission.
The series premiere was watched by 9.17 million in the UK and broke records in the US.
What say you about Robot of Sherwood? Click here to Rate & Discuss the episode!