Peter ponders Five(ish) Doctors sequel
Warning! This article and its comments may contain spoilers...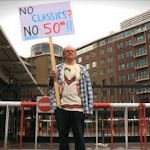 Peter Davison ponders the possibility of a Five(ish) Doctors sequel in a recent interview with Digital Spy to promote the upcoming Symphonic Spectacular UK tour.
The actor, who piloted the TARDIS in the early 80's, decided to take matters into his own hands when he was excluded from the show's official 50th anniversary festivities by joining forces with his fellow Classic Doctors in a light-hearted spoof. The film, which was released to coincide with The Day of the Doctor, was met with a rapturous response from fans who have since been campaigning for a second installment.
"I wasn't expecting it to have such a huge reaction," he admitted. "I'll do it again if I come up with a good enough idea. I wouldn't want to go into it half-heartedly if it was going to be nowhere near as good as the first one. Plus, I'd actually have to pay people this time!"
Peter will take to the stage to present the Symphonic Spectacular in UK arenas this month.
Would you be excited about a Five(ish) Doctors sequel? Who would you like to appear in it?