Big Finish announce new River Song audios
Warning! This article and its comments may contain spoilers...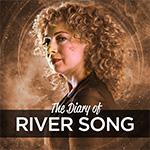 River Song will be returning to the Doctor Who universe next year when she stars in not one but two Big Finish audios.
First up, the popular character – who made her debut in the Series 4 two-parter Silence in the Library and Forest of the Dead – will join forces with the Eighth Doctor in the second chapter of Doom Coalition which also features the voice of Hattie Morahan as companion Helen Sinclair. After that, she'll reclaim the spotlight in her very own original adventure, The Diary of River Song, with Paul McGann reprising his role as the Time Lord for the fourth and final installment.
"The idea of River meeting previous Doctors was first put forward by Steven Moffat," David Richardson, producer, said. "It was just irresistible. And yes, we're still pinching ourselves!"
Meanwhile, Ian McNiece will K.B.O as he steps back into the shoes of Britain's former Prime Minister in The Churchill Years, co-starring Danny Horn as Kazran Sardick from the 2010 seasonal special A Christmas Carol, and Doctors 5 through to 8 will battle a new generation of adversaries in 'Classic Doctors, New Monsters', described as "the ultimate mash-up".
The four boxsets will be released throughout 2016 and are now available to pre-order. Are you excited about this news, and which audio adventure are you most looking forward to?