BBC working on Series 8 finale 3D Blu-ray?
Warning! This article and its comments may contain spoilers...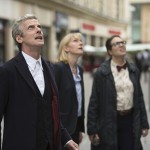 BBC Worldwide is currently working to convert the Series 8 finale – Dark Water and Death in Heaven – into 3D for an individual Blu-ray release, according to reports.
Although it hasn't been officially announced, rumours suggest that it will be released on 22nd September 2015 to coincide with the premiere of Series 9 on 19th September. It would be Doctor Who's second 3D Blu-ray release after the 50th anniversary special, The Day of the Doctor, in December 2013. As always, stick with WhovianNet as we'll be bringing you the latest developments as and when they occur.
"Say something nice" (or not) about the Series 8 finale in our episode discussion!