Series 9 UK ratings round up
Warning! This article and its comments may contain spoilers...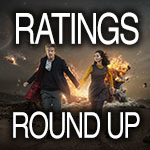 The Doctor is now back in action as the TARDIS has finally reopened its doors for another jam-packed series of timey-wimey twists and turns. Feels good, doesn't it?
While the show is more successful than its ever been, and fans of the Time Lord would argue that the whole world abandons their Saturday night plans to accompany him on his weekly adventures, unfortunately that just isn't the case. Luckily, we're here to let you know how many people are actually tuning in for Series 9, with our handy ratings table being updated as the drama unfolds. You're welcome!
Keep up to date with WhovianNet's latest Series 9 news, previews & discussions!