Happy Birthday, Freema Agyeman!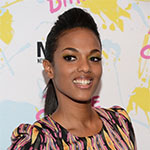 Please join us as we raise our glasses to wish Freema Agyeman a very happy 37th birthday today.
The actress, of course, played the Tenth Doctor's unlucky in love companion Martha Jones in Series 3 and 4, with a short but sweet stint in Torchwood in between, before returning alongside her fellow Children of Time to bid David Tennant adieu in The End of Time, Part Two. More recently she's been seen as Amanita in Netflix's original Sense8 drama, and she is soon to be reunited with Eve Myles in the upcoming vampire thriller Eat Local.
We hope Freema enjoys her celebrations, and feel free to post your own birthday messages and well wishes for her in the comments. She's Doctor Martha Jones, who the hell are you?