CONFIRMED: Pearl Mackie to play new Doctor Who companion
Warning! This article and its comments may contain spoilers...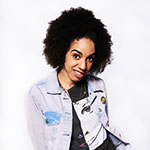 The moment we have been waiting for is HERE!
The BBC has announced that Pearl Mackie will be stepping aboard the TARDIS as the Twelfth Doctor's new companion.
Her character, Bill, was introduced in the form of a new trailer, aptly titled Friend from the Future, in which Peter Capaldi and his incoming co-star came face to face with the dreaded Daleks. Bill has been described as "cool, strong, sharp, a little bit vulnerable with a bit of geekiness thrown in" and she will accompany the Doctor throughout Series 10 in 2017.
Filming on her string of adventures will begin in Cardiff next month, and Pearl has revealed that she cannot wait to get started. "I am incredibly excited to be joining the Doctor Who family," she said. "It's an institution so I couldn't be prouder to call the TARDIS my home."

Above - Peter Capaldi and Pearl Mackie as the Twelfth Doctor and his new companion, Bill.
Loading ...
Peter, meanwhile, added: "It is a genuine delight to welcome Pearl Mackie to Doctor Who. A fine, fine actress with a wonderful zest and charm, she is a refreshing addition to the TARDIS and will bring a universe of exciting new possibilities to the Doctor's adventures."
New adventures. New companion. Same Doctor! Read the latest Series 10 news…