Matt teases "sitcom-like" Red Nose Day mini-episodes
Warning! This article and its comments may contain spoilers...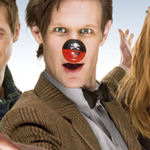 Matt Smith is interviewed inside the new issue of TV & Satellite Week (on which the Doctor, Amy and Rory are the cover stars!) about the Comic Relief specials.
Two mini episodes, 'Space' and 'Time', will be aired during BBC One's Red Nose Day telethon next Friday, 18th March, and, as Unreality TV reports, the actor has told the magazine: "It's great. Sometimes it is good to do something out of context and stand-alone and not have a full story narrative to follow."
Not much is known about the plot of the mini-eps, however we've seen from preview pictures that Amy will be coming face to face with herself! "The set-up is that the three of us are all in the TARDIS, and the TARDIS materialises within itself and there are two Amy Ponds," Matt explained. "She's quite pleased to meet herself, put it that way. Rory's bemused by the whole affair but, needless to say, two Amys in his life is no bad thing. Karen enjoyed playing two versions of herself and it's a funny performance from her."
Head over to the official Red Nose Day site for the latest news and fundraising tips!