Exclusive Interview: Anjli Mohindra
Warning! This article and its comments may contain spoilers...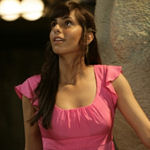 WhovianNet is thrilled to bring you our exclusive Q&A with actress Anjli Mohindra!
Being one of the stars of The Sarah Jane Adventures, Anjli knows all too well the feeling of going up against terrifying aliens, and, in our interview, she reveals what it's like being Rani and how the role has left her fully equipped to take on monsters in real life! She also tells us about her favourite moments from filming the series and shares her memories of the late Elisabeth Sladen.
Anjli will be taking to the stage in The Curse of the Devil's Verse, a lively comedy by Nic Harvey, at the Edinburgh Festival Fringe from 5th-13th August, and we wish her and her fellow cast/crew the best of luck! Thanks to Anjli for answering our questions…
Q) How did your role in The Sarah Jane Adventures come about?
A) I auditioned for the role through my agent, after attending the Nottingham Television Workshop. I heard back about three weeks later.

Q) Were you a fan of the series, and Doctor Who, before you joined the cast? What have been your favourite memories from filming?
A) To be honest, I hadn't seen a great deal of Doctor Who before being cast, but I started to watch the show loads more afterwards and I really enjoy it. My favourite memories are working with Matt Smith and David Tennant!

Q) Would you say you relate to Rani at all? Are you, Tommy Knight and Daniel Anthony as close in real life as Rani, Luke and Clyde are on the show?
A) I feel Rani and I are relatively similar. She is like a younger version of me. Tommy, Danny and I are pretty close in real life, yeah!

Q) Throughout her time in the series, Rani has faced various foes and aliens, including clowns, the Trickster and Androvax (to name a few!). How do you think you'd react if you came face to face with these villains in real life?
A) I'd know exactly what to do wouldn't I? Wee bit of vinegar in your pocket for those unexpected Slitheen encounters. I've got Tommy on speed-dial with Luke so I'd have knowledge for bringing down the Trickster! I'd be fine!

Q) There's also been several hints of a romance between Rani and Clyde. How do you think they'd get on as a couple?
A) I think they'd get on like a house on fire! And then probably kill each other. Clyde would drive Rani mad with his 'great' jokes!

Q) What was it like working with David Tennant and Matt Smith during their respective guest appearances in The Sarah Jane Adventures?
A) Awesome. They are both cracking actors and such fun to work with. It's a great burst of new energy when they pop in on the show. We love it.

Q) Elisabeth Sladen sadly passed away in April. How will you remember her, both as a co-star/actress and as Sarah Jane, and what are your particular favourite memories of working with her?
A) Lis was an incredible woman. She brought so much to her character, and so many elements of her own personality were poured into Sarah Jane, such as her kindness, her maternal instincts and her fighting spirit. As a person too, Lis was such a joy to work with, and she taught me so much. We all miss her and her memories will continue to live on as Sarah Jane.

Q) Is there anything you can tell us about the three new Sarah Jane stories that will be aired later this year?
A) I don't want to spoil the surprise, but I will tell you they are bigger and better then ever before!

Q) You'll be taking to the stage in 'The Curse of the Devil's Verse's at the Edinburgh Festival Fringe next month. Have you done much theatre work before?
A) I've done a fair few bits of theatre at The Television Workshop, and also a play at Birmingham Rep called East is East. The Curse of the Devil's Verse is a wonderful play, and it's very different to The Sarah Jane Adventures. But if anyone's about in Edinburgh, I'd recommend them swinging by!

Q) What would you say are the main differences between acting on stage and acting in front of a camera?
A) They are very different. Working in front of the camera requires lots of time in-between shooting to get everything right, plus you can stop and restart if you go wrong to make changes. Whereas with theatre, everything is in the moment. You can't go back or yell 'cut', and everything is rehearsed for weeks before.

Q) In terms of acting and peformance, has the play allowed you to explore anything you've never had the opprtunity to try out on Sarah Jane?
A) It's a bit more complicated in terms of character relationships, and it deals with tackling issues of gender differences and love as opposed to tackling physical threats!

Q) Finally, have you got any other projects lined up for the future?
A) Yeah, I'm in an episode of a show called 'Beaver Falls' which is on soon!
Six new Sarah Jane stories will be aired in the autumn in tribute to Elisabeth Sladen.