S9: Steven sets himself "ludicrous challenge"
Warning! This article and its comments may contain spoilers...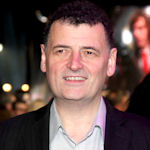 Steven Moffat has admitted that he's set himself a "ludicrous challenge" in Series 9.
Speaking at a recent BAFTA event which was held in New York to celebrate 10 years of the revived series, the showrunner revealed that he's in a constant "state of panic" regarding Episode 11, the penultimate episode of the upcoming series. "When you see it, you'll realise just how ludicrous a challenge I've set myself," he said. "Dear God. Even now, I'm sitting here and thinking, when I get back tonight, could I just try another way of doing it?"
It was recently confirmed that Steven will be staying on for at least another year, helming Series 10. The news was met with a mixed response and you can read our round up here.
Filming for Series 9 is currently underway. It's scheduled to air on BBC One in the autumn.